Join Our Team!
Careers with Relogistics
Our Employees are Faster. Better. Smarter.
Relogistics is the largest and fastest-growing provider of reusable pallet and container management services in North America. We support customers at more than 200 locations, processing more than 330,000 trailers and handling over 305 million pallets and 580,000 reusable containers annually. Our employees help drive supply chain efficiencies for major retailers nationwide.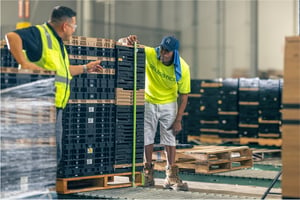 Our Core Value: Always Do the Right Thing
Respect

Safety

Opportunity
Integrity

Value

Innovation
Community

Sustainability

Accountability
Behind the Scenes at Relogistics
Relogistics Careers: Administration
Relogistics Careers: Break Pack Sorter
Relogistics Careers: Forklift Driver
Relogistics Careers: RPC Sorter
Relogistics Careers: Hand Sorter
Relogistics Careers: Pallet Repair