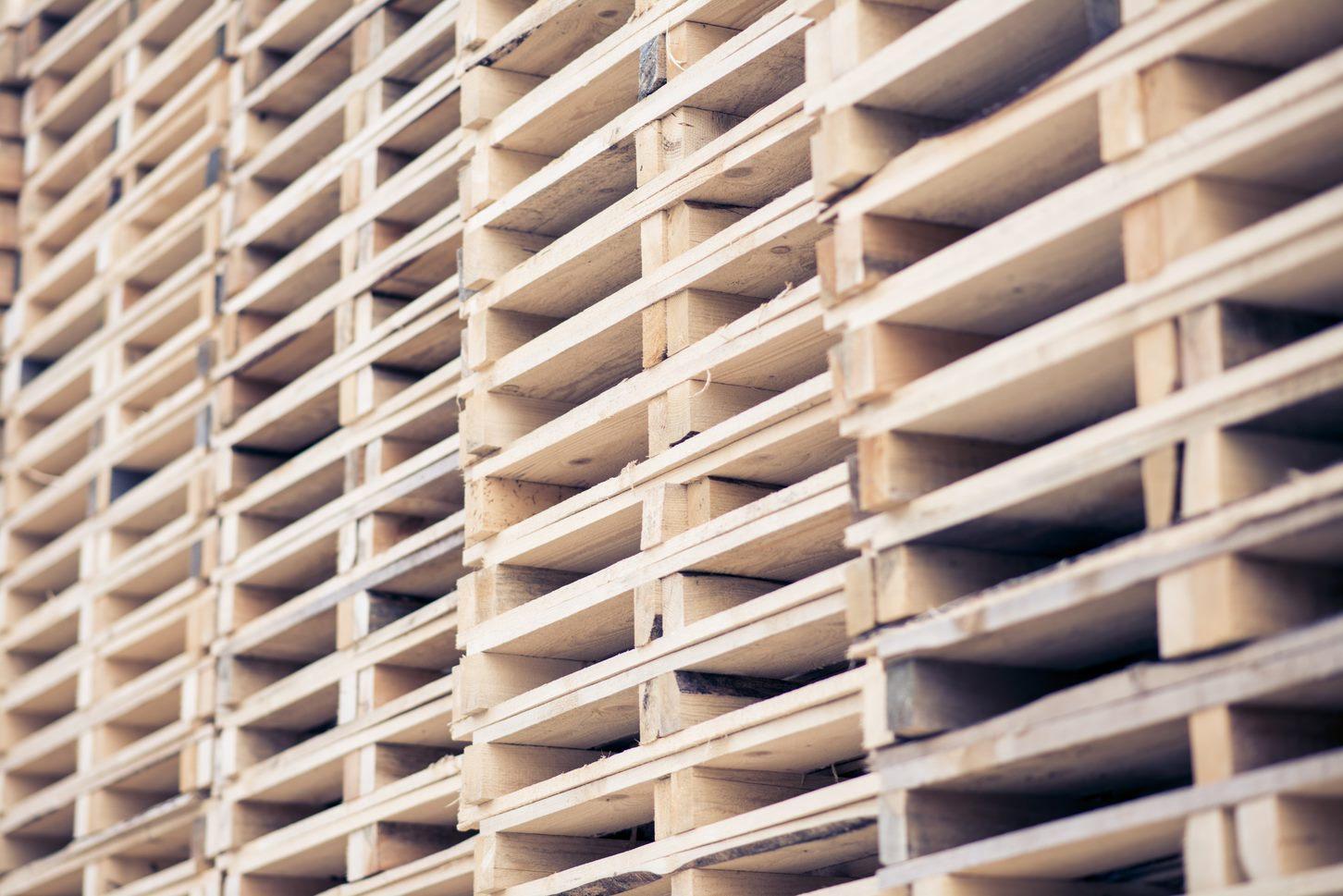 Businesses and industries around the globe are going green, and the supply chain is no exception. In fact, sustainability initiatives have become a major focus of the supply chain from the biggest companies in the world to the smallest players along the chain. These green initiatives take on many forms, but a simple and often overlooked option is wood pallet recycling.
As anyone in manufacturing or retail knows, pallets are the backbone of the supply chain. Almost two million pallets are in service in the U.S. alone every single day. Over 90% of those pallets are constructed from wood – And the good news is that wood pallets are 100% recyclable.
A 2018 study by Virginia Tech found that over 95% of all wood pallets are recycled, and according to Nature's Packaging, an estimated 474 million pallets were recovered for recycling in 2011 - a number that has likely skyrocketed since then.
Unfortunately, that means some pallets are still not recycled. Through lack of understanding, lack of process and lack of initiative, many wood pallets end up getting tossed out, stowed away, disposed of in landfills, or burned. It's an unnecessary waste because used pallets – damaged or not – can serve new purposes through an effective wood pallet recycling plan.
Old Pallets, New Lives
Pallets take a beating, so it's not surprising they get damaged. But a few knocks shouldn't keep a pallet from being used again. Damaged pallets can often be easily repaired and put back into circulation. Thanks to their standard uniformity, lumber and salvaged wood from pallets damaged beyond repair can actually be used to make repairs to other less-damaged pallets. Any remaining lumber or pallets that are too broken to fix still have life beyond the supply chain – they can be ground into landscape mulch or animal bedding, used for particle board or compost, or even processed for biofuel.
The use of recycled wood pallets has steadily increased over the past two decades, demonstrating a growing acceptance of the idea in the supply chain. As this graph illustrates, the number of new pallets in circulation has remained rather steady, while recycled pallets have increased more than 600% since 1992.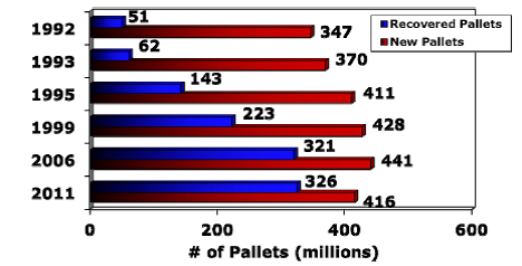 The Impact of Wood Pallet Recycling
From saving trees and energy used in the production of pallets to saving space in landfills where so many more pallets used to end up, the sustainability benefits of using recycled wood pallets are evident… But can we measure the impact? Research provides some interesting statistics.
For example, one projection says 350 million recycled pallets per year saves about 43 million trees! The U.S. Forest Service estimated that 474 million wood pallets were recovered in 2011, with 326 million of those returned to circulation as pallets; the remaining 148 million recycled into "other products." A recent study conducted by Virginia Tech University estimated that of 700 million wood pallets manufactured and repaired in the U.S., less than 3% now end up in landfills.
Retailers and others who return pallets to circulation can even calculate the reduction of CO2 emissions their efforts generate. Perhaps the best news of all is that making a wood pallet recycling program part of your green initiatives not only helps the environment, but helps add green to your bottom line. Recycled pallets are a fraction of the cost of new pallets, yet perform the same. Saving money while saving the environment, that's the future of pallet solutions.
Need help syncing your sustainability initiatives with your supply chain? Talk to the experts at Relogistics today about a custom pallet recycling plan for your business.