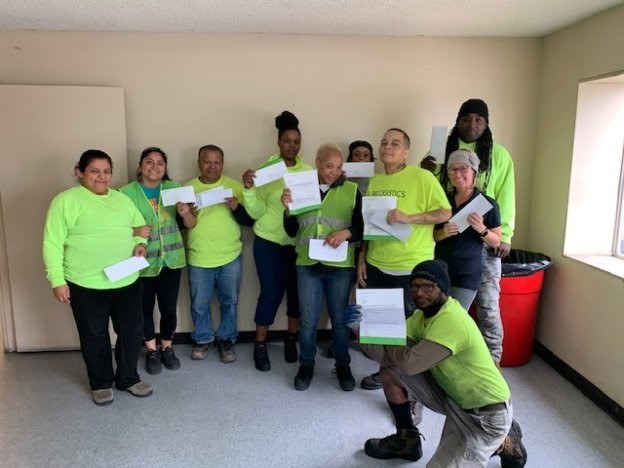 Relogistics CEO Gives $300K of Own Bonus to Hourly Employees for the Holidays
There's a long history of companies giving to causes, and in recent years a lot of talk about values-driven organizations. Many firms are now founded with purpose woven into their DNA. Pallet management services provider Relogistics counts itself among those.
From the outset, Relogistics wanted charitable giving to be a cornerstone of their company culture. Managers and employees are encouraged to impact the communities they serve. As incentive, Relogistics donates monetary matches for the dollars and hours employees contribute to their selective causes.
"We have operations in over 50 different communities today, and each is very different," explained Relogistics President and CEO Mike Hachtman. "Our goal is for each of our managers to be involved in their respective communities and understand the unique nature of the people who live in their communities. I personally would like to support these communities but am too far away from them here in Houston. We have donated over $250,000 over the past few years to support everything from Little League teams, battered women shelters and animal shelters. Each was very deserving of our support. In many cases our managers became regularly and personally involved with these groups."
But Hachtman recently had another idea for generosity. Following a record-setting year for Relogistics, he wanted to celebrate that success throughout the company. The result was a $500 bonus given to every employee who spent all of 2019 helping the company blow past its yearly objectives. For some employees, that amounted to an entire week's worth of extra pay.
"We've truly been blessed," Hachtman added. "Last year saw us grow to 800 employees in over 50 sites in 20 states. This could not have been possible without the effort of our hourly employees. As we finished our fiscal year audit, it became apparent we had an opportunity to say thank you. Thank you for your hard work. Thank you for your continued support. And, thank you for helping us achieve company goals."
Perhaps the most telling aspect of the bonus is that – though he wouldn't tell you this upfront – the bonus provided to employees came directly from Hachtman's own bonus. In other words, the very definition of sharing the success.
"As a business owner, I am honored to work with these people every day," Hachtman said. "Regardless of their individual jobs, our folks work hard. I am extremely happy we were in a position this year to provide a surprise bonus. While we try to regularly express our appreciation, nothing says thank you like extra income – especially to those who might be struggling."
Unsurprisingly, the bonus made an impact throughout the company. Unsolicited comments poured in from across locations.
"Mike, on behalf of my tenured employees, thank you for the wonderful gesture of sharing in the good fortunes of Relogistics for 2019. For several folks, this $500 bonus came at a time when it was desperately needed for a car repair, pay off a medical bill and to put a family at ease about paying the seasonal, high heating bills."
"We have a lead that has been out on medical leave and was using all her PTO. This gift really made a huge impact on how she paid her bills and managed her off time. She was trying to rush back to work and now has decided to follow the doctor's advice and rest up thanks to the support of the company."
"We talk all the time at the sites about how the employees are the most important part of our business and that without their loyalty and hard work we wouldn't be 755 days accident free and we wouldn't have customers. This bonus really let them know that they are appreciated."
While the bonus had obvious impacts for those who received it, the gesture also had an impact on employees who weren't qualified for the bonus – reinforcing the company culture that emphasizes family and caring.
"We also had new hires in the room that commented that this is a great company to work for and that they have never worked for any company that has done this for their employees," one manager wrote. "This helps in our efforts in trying to get Dallas to get to the next level and be best in class service to our customer!"
"The fact that this was a total surprise to all, it was genuinely felt that Relogistics does care about its employees, both the seasoned veterans as well as the newer ones who did not receive the bonus."
Plenty of companies talk the talk about being employee driven. Some prove it. With plenty of negative commentary about forced labor and harsh conditions throughout today's global and demanding supply chains, it's refreshing to see stories like this that paint a much different picture of the logistics industry.
"While I would love to make this an annual tradition, it is dependent on me, as well as the 799 other Relogistics employees, to work hard and surpass company goals again," Hachtman concluded. "Nothing would make me happier than to be able to share our success again."