Article reposted with permission from Pallet Enterprise magazine.
Long before COVID-19 hit the United States, pallets have played a critical role in the background of supply chains. From medical supplies to food to toilet paper and more, pallets make logistics efficient and keep factories and stores full.

Your workers are essential, and they are playing a critical role in the U.S. fight against the virus. They are going to work every day, and are making a difference. Now more than ever, pallet guys are heroes too.
The staff of the Pallet Enterprise salutes all the workers in pallet factories that are keeping the supply chains moving. It also covers methods that pallet companies are deploying to keep workers safe and reduce COVID-19 spread.
This story captures in pictures some of the ways that pallet companies are doing their part to help communities and supply chains during the pandemic.
Pallets to the Rescue! – The Palinator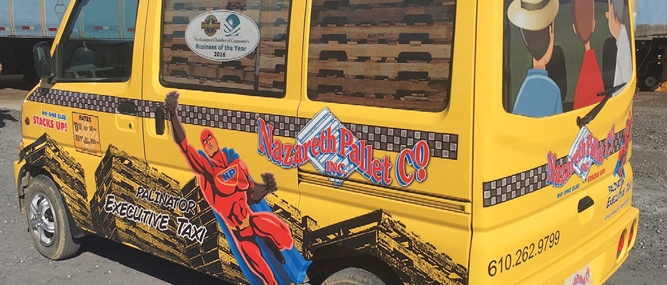 Nazareth Pallet supplies pallets to critical industries during the pandemic. Its people serve the poultry, pork, food packaging, and Personal Protective Equipment (PPE) sectors. George Frack, owner of Nazareth Pallet, added, "Our people are heroes, just like our Palinator mascot. We keep our customers moving with on-time pallet delivery and on-site trailers to facilitate pallet and scrap removal services."
Frack added, "We have not laid off a single employee during this period. We are giving bonuses for attendance as well as safety practices, such as wearing masks, washing hands and maintaining safe social distance."
Some additional steps Nazareth Pallet has taken to keep its workforce safe include:
Acquiring an abundance of masks and other PPE for everyone along with the necessary cleaning supplies.
Altered lunch and break periods so fewer employees are out at one time.
Weekly throwing appreciation lunches to support various local restaurants and show support for staff.
Installed four portable wash stations throughout the facility.
Part-time cleaning crew is working full-time now to clean common surfaces, machinery work areas and more.
Holding daily safety and COVID-19 meetings for staff while maintaining appropriate social distancing.
The company plans to have a ceremony in the future to honor all workers with a huge Palinator banner that all employees will sign.
Johnson Brothers Services Critical Medical Industries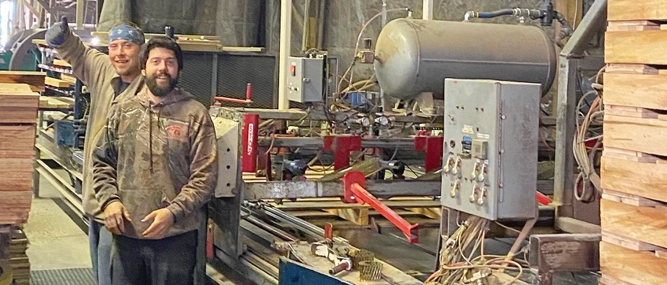 David Johnson, who is co-owner of Johnson Brothers, Inc., said, "Pallets are critical in the supply chain to ensure movement of goods. We have had to shift production to supply customers, such as mask manufacturers, soap and hand sanitizer companies, that are vital to the COVID-19 response."
Johnson with his brother Marty Johnson and his son Will runs the daily operations. He admitted that overall orders are down as some customers have been forced to shut down plants. But Johnson Brothers have moved other capacity to help with the medical and sanitation production sector that is booming. Johnson said, "I am blessed by the Lord in what we do. But it is really difficult to know how to lead a company right now."
ReLogistics Services Gears Up for COVID-19 Response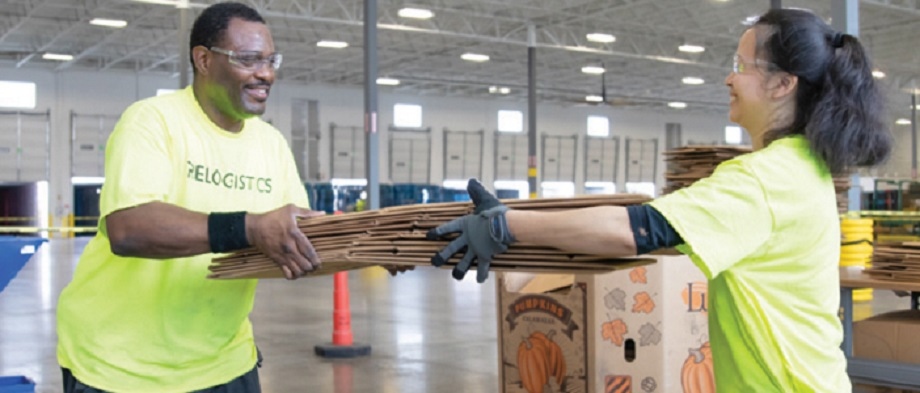 ReLogistics Services operates in grocery store distribution centers to manage pallet flows. The company has locations across the country, and since COVID-19, it has increased most of its sites to a 24/7 operation, practically overnight. Kristin Kopp, director of communications for ReLogistics, explained, "Our sole focus always has been unloading trailers as efficiently as possible for a faster, more efficient return to our customers. But, since COVID-19, we have seen record volumes, higher than the peak holiday season."
The demand for empty trailers in order to restock shelves, to provide the American public with goods quickly, has been unprecedented. ReLogistics hired well over 100 employees in just a couple of weeks and added HR staff to support that effort to continue to seamlessly meet customer demands, all the while keeping employees safe and informed.
Mike Hachtman, president of ReLogistics, said, "We have never seen a braver, more dedicated workforce who all know they are an 'essential' piece in this puzzle, and we are treating them as such. They know their critical job is to ensure our customers are getting what they need for American families during this time."
ReLogistics has taken the following steps to bolster its workforce during the pandemic:
Continuously updating and providing concise, accurate and current communication to employees about CDC guidelines and risk exposure, preventative measures, etc. This communication is taking place via phone, email, shared folders, graphics, ESS and a video message to all employees (new for ReLogistics and very successful!)
Increased pay by $1.50 for hourly employees almost immediately. There was so much gratitude!
Secured bottles of hand sanitizer at a very high cost and distributed immediately to our sites when NONE has been available to anyone, anywhere.
Purchased thermometers for 53 locations to start monitoring health / conducting screenings upon arrival at work to ensure everyone's safety.
Secured 35,000 masks before it was suggested by the CDC to offer employees the opportunity to do so if they choose.
Bonused managers once so far during this process to recognize their dedication and hard work.
Sent gift cards and ordered lunches for staff across the country.
The company president has written personal notes to many workers recognizing their hard work during this pandemic response.
Had t-shirts made to show company-wide unity and employee appreciation.
Updated emergency leave policy to accommodate employees during this hard time.
48forty Solutions – Working to Make Pallet Simple for Users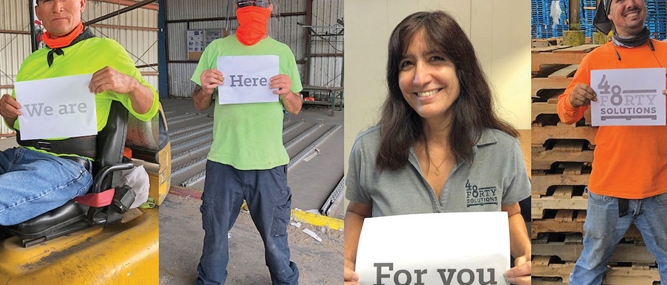 48forty Solutions, one of the largest pallet recyclers, is strictly following the CDC, OSHA and The Department of Homeland Security recommendations.
Natalya Calleja, director of marketing and customer experience for 48forty Solutions, commented, "Our plant employees have done an outstanding job adhering to sanitation and social distancing practices across all our 45 plants. This moment has reminded us that we are all connected like never before. It's our hope that our commitment to making pallet management simple for any critical business who needs our help right now will help make some small difference."
48forty Solutions general managers are focusing on helping employees stay safe, and doing everything in their power to keep employees' spirits high and healthy. Calleja explained, "Many of our GMs start their day by thanking each employee prior to starting their shift. They also do team huddles daily (in the open air, keeping 6 feet apart) to talk about goals as well as remind our drivers, pallet builders, forklift operators, and saw shop operators that each pallet they repair, deliver and/or recycle matters now more than ever. In short, they're reminding our employees that we are helping retailers, major grocers, and independent supermarkets keep critical supplies moving and stocked across our nation."
Greenway Products Supports Food Pantry Efforts in NYC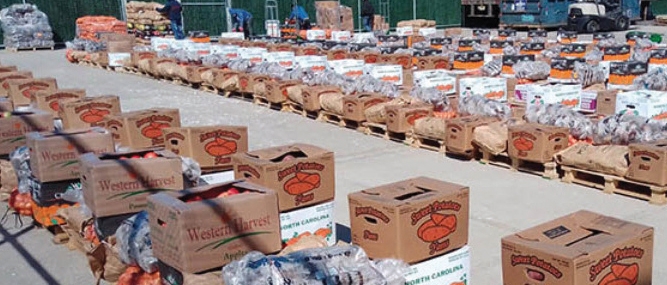 A Brooklyn NY food pantry called on Greenway Products and Services for help to keep community members fed and safe. The Oneg Shabbos Kosher Pantry reached out to Greenway Products and Services for help in setting up a new, safer way to provide food staples to neighbors facing severe food insecurities, exacerbated by sudden unemployment across much of the area. The food pantry extended a mitzvah, or blessing, to Greenway by enlisting the pallet manufacturer to join the pantry on the front lines of fighting poverty that exists in our time.
Dominick Davi, Greenway's president, quickly responded: "Our company always strives to be more than a company that sells pallets. Greenway is committed to help our communities get through with this pandemic in any way we can. Oneg Shabbos is a wonderful and caring organization. We are honored to donate pallets to them to make sure New Yorkers are ok."
Davi invites organizations taking extraordinary steps in response to the pandemic: "Greenway would like to know about your work, and our company would love to donate pallets, where they can be used to help."
With Greenway's donation of 200 food-grade wooden pallets, Oneg Shabbos can now prepare 200 pallets of food daily, six days a week for food distribution. Food comes from manufacturers who donate overstocks and short-dated goods as well as national companies such as Pepsi, Beechnut and Manischewitz. For more information, visit https://greenwaypsllc.com/food-grade-pallet-donation-food-pantry/.
Pallet Alliance Develops COVID-19 Response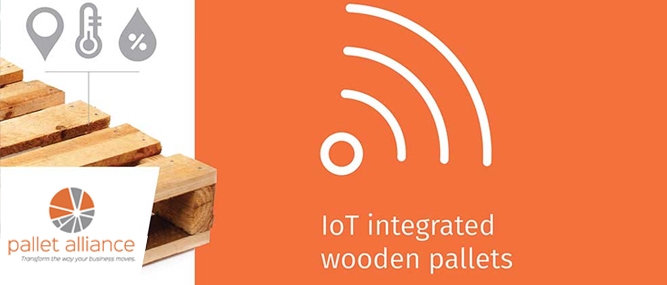 Pallet Alliance (www.tpai.com) customers include pharmaceutical, building products, health care and chemical companies, among others, all of which are critical to combatting the COVID-19 epidemic and keeping essential products on the shelves for customers. Pallet Alliance is helping overcome the challenges confronting manufacturing companies and pallet suppliers in a variety of ways, including:
Implementing touchless/paperless delivery processes where circumstances warrant or are required to ensure employee safety
Working with pallet vendors to source and provide protective face coverings
Utilizing our expansive vendor network to ensure continuity of supply, including when shops have been forced to close or have chosen to shut down
Collaborating with clients and vendors to maintain adequate safety stock in materials
Please visit www.palletenterprise.com to learn more about ways that pallet companies are deploying their efforts to keep workers safe and to reduce the spread of COVID-19.