If you're looking to make better use of your dock space, Relogistics has you covered. Applying Six Sigma methodologies, we offer a strategic approach to dock space management that significantly reduces errors and boosts efficiency. Our comprehensive approach includes customized site assessments that pinpoint areas for improvement and outline a clear plan of action for tangible results.
Managing dock space is more than just organizing pallets and maintaining sanitation. It's about applying robust processes that ensure smooth flow of goods, efficient use of space, and timely adherence to compliance regulations. Relogistics understands these complexities and offers solutions that not only streamline operations but also contribute to your bottom line.
With our expert team managing your dock space, you can trust us to handle challenges related to the flow of goods or sanitation concerns. This allows your staff to dedicate more time to core business operations, while we ensure that your dock operations are optimized and compliant with all necessary regulations.
Why Does Dock Space Management Matter?
Dock space availability is critical for both receiving and shipping products, as well as unloading salvage. Without sufficient dock space, delays may occur, causing unnecessary downtime. Maintaining site sanitation throughout your facility is required to maintain compliance with FDA/USDA guidelines, including dock sanitation. At Relogistics, we work closely with our customers to optimize their dock space and keep it clean, helping to ensure that they have the capacity to keep their operations running smoothly.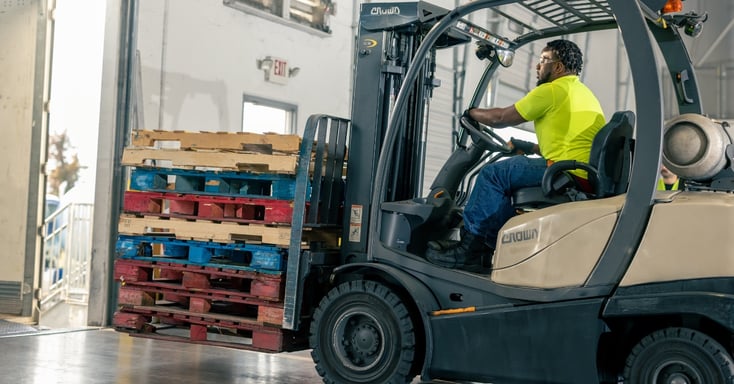 Challenges of Dock Space Management
Processing Items
There are many challenges that can come with managing dock space, no matter what industry you're in. Having a knowledgeable team that can process multiple items at a time is crucial, but it can also be the biggest obstacle for many companies. This team has to ensure that all assets, whether they are pallets, containers, or cardboard materials, are moving in and out the way they need to be.
Managing the Flow of Goods
Managing the flow of goods within a facility is another pain point for operations. It requires a well-organized and efficient system for loading and unloading, which can be complicated by factors such as a limited number of loading docks, traffic conditions, and unpredictable delivery schedules.
Adhering to Safety and Compliance Regulations
Managing dock space efficiently also requires attention to safety and compliance with FDA and USDA guidelines that retailers and manufacturers are required to follow. At Relogistics, we recognize the intricacies of these regulations. Our dedicated team can manage this process for our customers onsite, at their own locations.
How Relogistics Can Help
By partnering with Relogistics for their dock management, our customers free up valuable time and resources to focus on other critical areas of their business. Here's how we do it.
Our Implementation Process
Dock space management requires a systematic approach that is tailored to the unique needs of every business. At Relogistics, we begin this process with a site assessment where we conduct a comprehensive review of the customer's space and identify any areas for improvement. During this time we also engage with the safety, sanitation, and other key operational points of contact, to ensure that everyone is aligned with the goals and expectations for the project. Once the project is underway, we provide a morning yard check to ensure that everyone is up-to-date on the operational requirements needed to support the process. Throughout the day, we conduct periodic dock sweeps and take pictures to document the operation. By taking a proactive approach to dock space management, we are able to identify and address issues quickly, minimize downtime, and optimize the flow of goods in and out of facilities.
Sanitation Audits
Maintaining a clean and sanitary dock space is critical to the success of our customers' businesses, so we provide audits to help them improve their sanitation scores and avoid costly penalties or fines.
For example, about two years ago we began working with a national grocer who needed assistance with improving their results on sanitation audits. After we began supporting their operation, this national grocer passed every subsequent sanitation audit without issue. One of the ways we achieved this success was by implementing a rigorous inspection process for every trailer, prior to unloading. We use flashlights to thoroughly inspect every part of the trailer, ensuring that there are no issues present. We also work closely with our customers' vendors to make sure that products are picked up as quickly as possible after delivery. This not only reduces the risk of contamination, but also helps to optimize the use of dock space and improve overall efficiency.
Get in Touch
With 186+ onsite locations across the nation, Relogistics has a dedicated team that is ready to improve your dock space management anywhere you do business. Our team handles the complexities of dock space management so that your team can focus on other critical areas of your business. Get in touch with us today to learn more.