Safety is a core component of our organization's culture here at Relogistics. We put the safety of our employees, and our customers' employees, above everything else. June is National Safety Month, and while safety is a priority each and every day, we're taking more time this month to spotlight all things safety with our teams across the country. We recently spoke with Joe Mosher, Senior Director of Safety and Compliance, about the importance of safety at Relogistics and how we're recognizing our Safety Champions.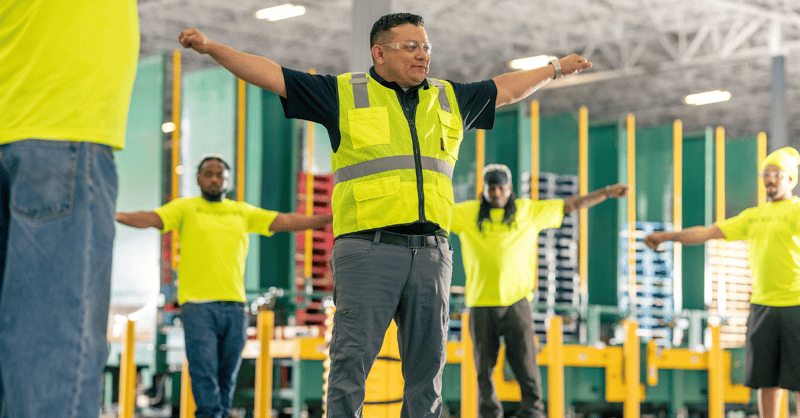 Tell us about your experience and current role.
I've been in the industry for close to 20 years now, working across operations, human resources and safety departments. I have a very unique position at Relogisitcs. I see many things day to day, and one of the things that I'm very proud of is taking care of our employees. We do that through many different safety avenues that we've got here at our company. We like to see our employees come to work and take care of them and then have them go home safely.
Success in my role means that all of our employees get home safe every day. That's our safety culture at Relogistics. It's simply folks coming to work, enjoying what they're doing, being safe in what they're doing, and then being able to go home.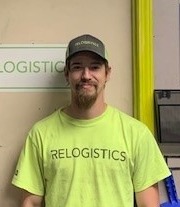 Lead Ryan Haldeman is our Knoxville, Tennessee RLC Safety Champion. He spreads the importance of safety throughout his shift and the center each day. You will not find an employee that has more dedication to safety, the job and performance than Ryan.
What does your team handle?
There are 9 regional safety managers on the safety team at Relogistics. This group is responsible for 181 sites. We go to all of our sites, visit with the managers on a quarterly basis, and interact with managers, employees, and customers. Their role and goal is to make sure that everyone sees that we care about and are committed to safety, and that we're here to help them just as much as they help us.
The customer interaction piece is a noteworthy one here. There have been times in the past where a customer has come to us about our safety program and said, "wow, I didn't realize that you guys take it a step further in this area. This is something that we might want to look at on our end." It's important that we're able to share some of our safety experience and tools that we have with our customers.
What it comes down to for us is – it's all about promoting our safety culture. Being aware of your surroundings, being able to react when you do see something, and to be able to put protocols in place so it doesn't happen again. That's the process our team handles.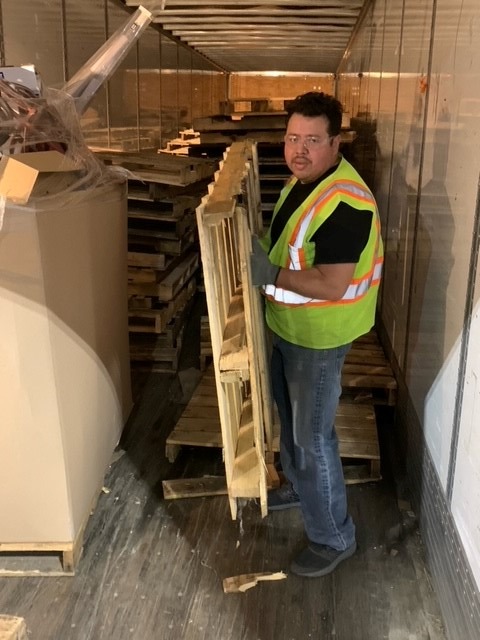 Supervisor Uciel Rodriguez is our Scottsburg, Indiana, RLC Safety Champion. Uciel has gone 20 years without any injuries or safety violations. We are incredibly proud of his dedication to safety!
Why is safety important?
Safety is so important in our industry. As I said earlier, the main priority is being able to bring our employees to work, have them work safely, and then for them to be able to go home safely.
Additionally, we work in quite a few of our customer sites within their distribution centers. Not only do we want to take care of our employees, but we also want to take care of our customers' employees when they do interact with us. Remember, we're performing a task within their four walls. It's imperative we have a culture of safety so that our customers can see it, and that we can work together safely as a team. If we don't have that safe environment, then we're not able to perform the job that's fully expected of us.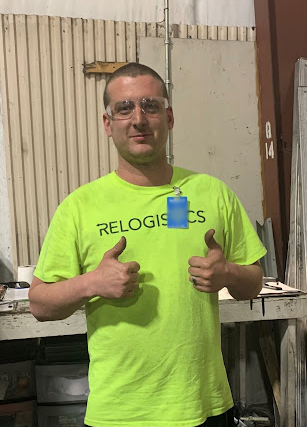 Lead 1 Dusty Wilson is our Noble, Illinois, RLC Safety Champion. Dusty promotes safety daily. He brings new ideas to his manager on how we can be safer while also maintaining efficient production. He is always cleaning to ensure everyone is avoiding slips, trips, and falls. As an outstanding employee when it comes to safety, Dusty points out anything we can do to keep everyone safe during our work cycle.
Tell us about the safety program at Relogistics.
The safety program at Relogistics has been a part of our company since the very beginning. One element is our training library of safety binders and protocols. We've even made these accessible electronically so it's very easy for managers to access and share these resources.
We have about 35 binders that are associated with what we do and they all follow OSHA guidelines. They cover a number of areas, from forklift drivers to sort machines at our reverse logistics centers, to emergency action plans. We also cover our hearing conservation program, lockout, tagout, and personal protective equipment (PPE), among a number of other topics. These procedures are implemented at all of our sites, and team members keep up with it on a daily, weekly, monthly and annual basis.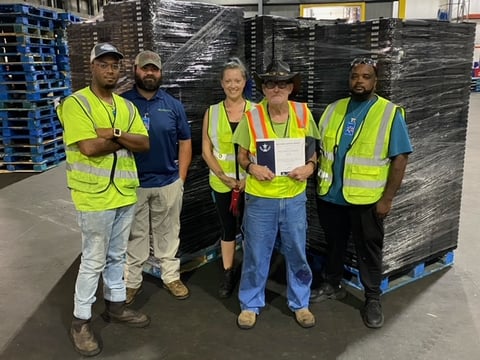 RPC sorter William Sanders is our Brundidge, AL RLC Safety Champion. He has been with Relogistics for over 10 years and has been accident-free his entire career here. William is always encouraging his team to operate safely.
How do you ensure employees are kept safe?
In short, our culture of safety that's centered around job training and promoting safety awareness. We make sure employees know it's important to be familiar with their surroundings, and are able to see things and to react to things. Furthermore, we bring this not only to our employees, but also to our customers.
It's really important to us that our employees lead our safety culture. What I mean by this is employees taking the ownership, making corrections as a team, for instance. We want to provide the tools and resources for employees to use, but we want the employees to be able to bring safety from the floor on up.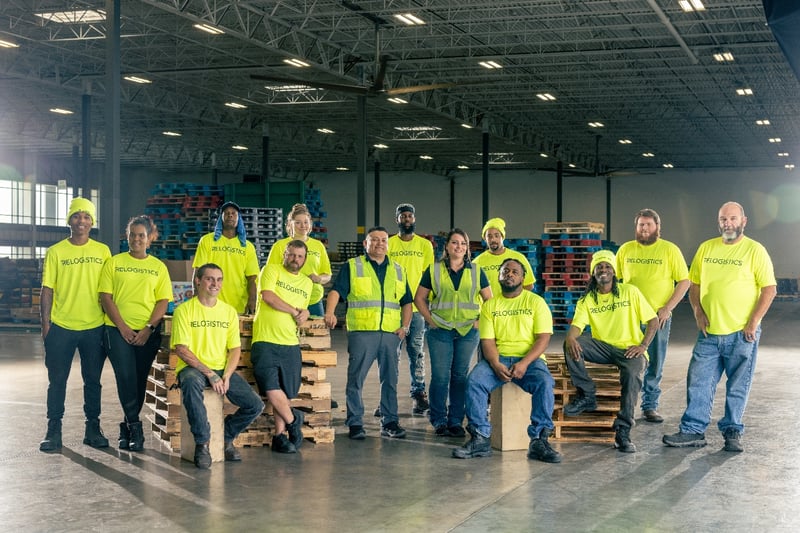 Our Fort Worth RLC team earned the Injury-Free Award. RLC Manager Eric Martinez states, "Earning the Injury-Free Award means that every one of our associates went home every day the same way they came to work and that matters most!"
How is Relogistics observing National Safety Month?
National Safety Month is an annual observance to help keep each other safe from the workplace to anyplace. While safety is a priority each day here at Relogistics, we are taking the opportunity during National Safety Month to further engage our employees and managers across all of our sites around our culture of safety through a number of different team building activities. We're also celebrating our Safety Champions and Injury-Free sites across the company.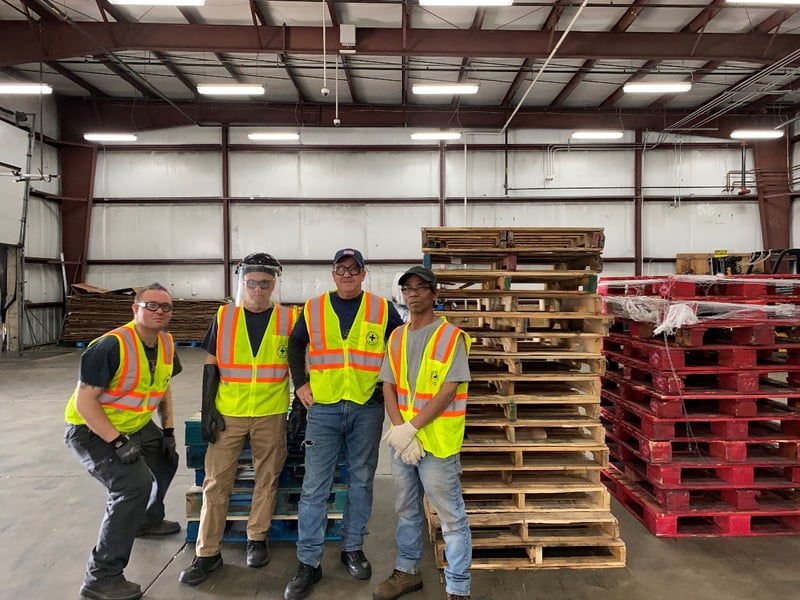 Our Methuen onsite crew earned the Injury-Free Award after going the entire fiscal year without any recordable injuries or accidents. Congratulations to this team for prioritizing safety above all else, each and every day.
Bringing safety to the forefront
At Relogistics, safety is a core component of our organization's culture. We put the safety of our employees, and our customers' employees, above everything else. We strive to keep each other safe and be intentional about how we accomplish this. We continue to communicate the importance of safety to our employees so that it stays at the forefront of all we do.
---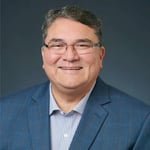 Joe Mosher is the Director of Safety and Compliance at Relogistics Services and has nearly 20 years of experience in the industry.