Managing your company's supply chain involves many factors - and pooled pallet management is no exception. Relogistics knows both the challenges and requirements of managing pooled pallets, allowing us to help your supply chain run more efficiently and your business to see reduced expenses.
What is Pooled Pallet Management?
Pooled pallets are often used in the grocery and retail industries. Manufacturers and retailers can lease these pallets and are required to report their movement throughout the supply chain and ultimately return them to the owner. A pool of pallets may also be owned by a business, which they can use for internal purposes within their warehouse and to downstream products to stores.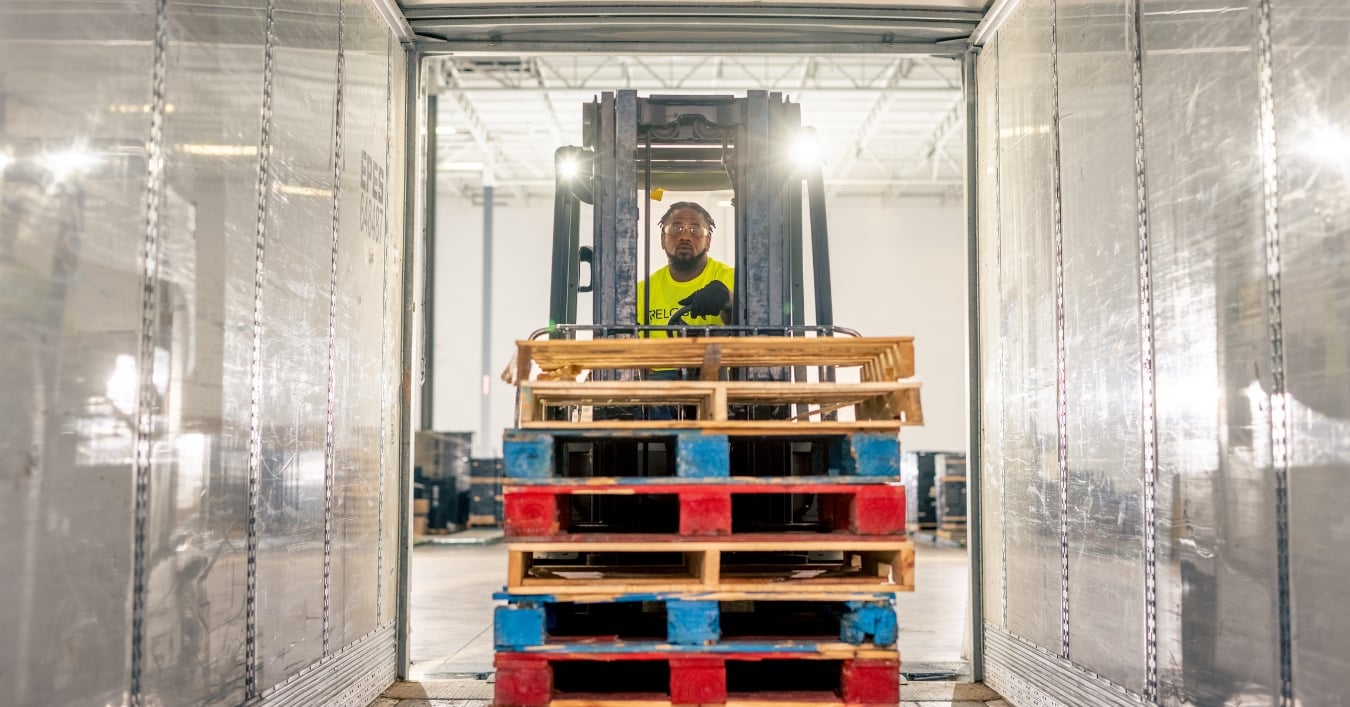 Common Issues with Pooled Pallets
Many businesses may fail to properly manage their pooled pallets. This can lead to low-quality pallets that create safety risks during handling. Additionally, if pooled pallets are not managed and tracked correctly, customers can incur significant fees. When you consider these pooled pallet fees and take into consideration the potential revenue that could have come from whitewood pallet sales, this can result in companies spending more than they might realize on their overall pallet program. This is where Relogistics comes in. Our pallet management solutions are designed to address common issues and help our customers optimize their pallet usage. With our expertise and advanced technology, we ensure that your pooled pallets are properly segregated and of high quality, leading to both a safer working environment and reduced overall cost.
4 Reasons Relogistics Should Manage Your Pooled Pallets
Large retailers can see significant benefits by implementing more effective pallet management programs with Relogistics.
Improve Tracking And Reporting
At Relogistics, we track both inbound and outbound pallet volumes to better understand where pallets originate. This gives us valuable insight into the pallet processing timeline and how long pallets remain in our customers' yards. Precise tracking of our customers' pallets allows us to evaluate and identify areas of loss, any needs for capital investment, and other key metrics that help stakeholders make informed decisions about their pallet management strategies. We also add supply chain value by working closely with our customers and pallet poolers to identify sortation, repair, and reporting improvement opportunities.
Save Time And Money
Our data system, Velocity, tracks all pallets with the appropriate customer Global Identification (GLID) number, pallet quantity, trailer number, and return date. Our expert team members help businesses manage dwell time, ensure that assets are moved out of their facilities in a timely manner, and facilitate their return for reuse. By accurately and efficiently managing pallet movement throughout the supply chain, companies see real cost savings and can avoid lost pallet fees, which can be as high as $50 per pallet.
Ensure Pallet Quality
Businesses may have concerns regarding the quality of pallets. We work closely with our customers, particularly major national retailers, to develop customized pallet management plans that meet their specific needs and requirements. For example, this might include the development and management of a vendor pallet compliance program that monitors the quality of pallets being shipped to their warehouses. These efforts ensure that our customers receive only the highest quality pallets.
Meet Sustainability Targets
Sustainability is a key component of any effective supply chain strategy. Businesses can reduce waste, optimize pallet lifecycle, and decrease their environmental impact by adeptly managing their pooled pallets. At Relogistics, we help businesses achieve these goals.
Learn More
Founded in 2011, Relogistics has over 190+ locations across North America and is the leading national provider of Total Pallet Management solutions for large, national retailers and manufacturers. We provide cost-saving, tailored solutions for companies that need to get the most out of their supply chain. Get in touch with our team to learn more about how Relogistics can help streamline your pooled pallets and improve your bottom line.